We're Obsessed with these 5 Photoshoot Ideas for Valentine's Day
While we love a cute balloon arch and aesthetic background, photos with your littles are way more than that! It's a chance to capture special moments and season to save for a lifetime, because... they grow up so fast! See below for some of our favorite Valentine's photos that scream l-o-v-e and provide some inspiration for your own festive fun!

Never forget these beautiful moments together, get those photos and treasure for a lifetime!
Sign up to receive relevant celebration tips and hear about new product launches

No. 1

Giant Box of Chocolates Backdrop

If you're feeling like a fun festive project, this set up is the one for you! This adorable larger than life chocolate candies box is constructed using
balloons, foam board, and some other supplies. It makes a show-stopping backdrop or a fun decor piece if you're having a Valentine's partay!
View a step by step guide on Lilly Jimenez's blog Creative Heart Studio here and a video how-to below.

No. 2

Matching Outfits and Love Balloon

Hollie Urbeck Photography nails this absolutely adorable shot with a combo of balloons, garlands, and the cutest Valentine's outfits. Did you see those knee-high socks?! Love!
Checkout this Amazon list here for the balloons and garlands.
We can't get enough of these crazy cute home studio photos by Maren Elizabeth!! She goes step by step with how she crafted this incredible set up, and you can read more on her blog here.
No. 4

Conversation Heart Balloon Pregnancy Announcement

Alyssa Soto adorably announces a new baby in a stunning Valentine's way! The moment captured with the new big sister is such a special one, too, and a must-get!
All you need are some heart shaped balloons and white letter stickers like these on Amazon.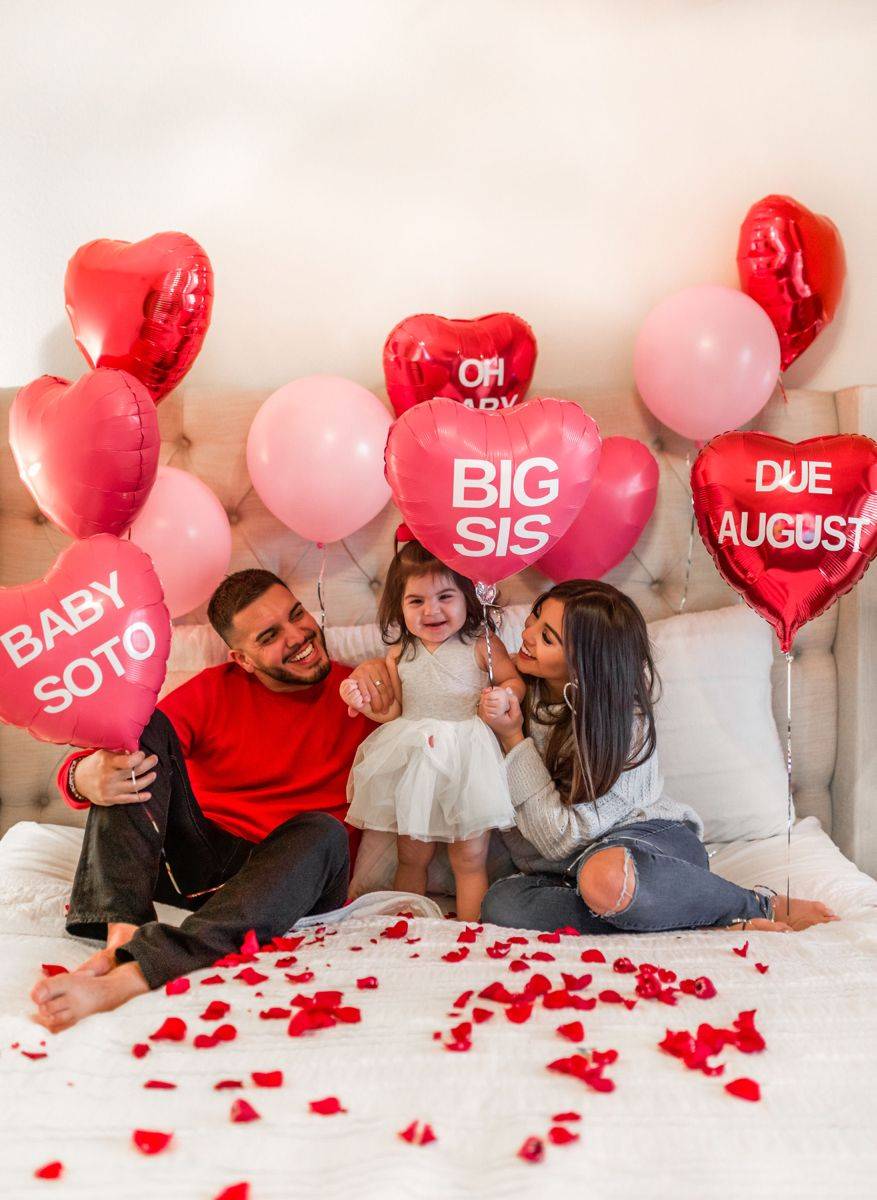 No. 5

Heart Balloons Pregnancy Announcement

This adorable photo of Tyler Faith Darden (@tylerwithfaith) with her husband shot by Grant Bento (@gbenton12) is one for the books! The color choices of light pinks and whites is the perfect soft Valentine's vibe, along with the pop of color of the mylar balloons. Just so cute!
You can find similar balloons on Amazon here.
What are some not cheesy ways of telling my family I'm pregnant? If you're looking for some more understated and...
TRENDING VALENTINE'S DAY PRODUCTS